Google Cloud Scheduler, a fully managed cron job service
Cloud Scheduler, is a fully managed cron job service that allows any application to invoke batch, big data and cloud infrastructure operations. Google have added an important new feature that allows you to trigger any service, running anywhere: on-prem, on Google Cloud or any third party data center.
Fully managed, enterprise-grade scheduler
With the fully managed cron job service of Google's Cloud Scheduler, we can Minimize manual toil, we can automate our cloud infrastructure operations ,we can schedule virtually anything and manage everything in one place.
Advantages on Google Cloud Scheduler.
The Google Cloud Scheduler is Fully managed, the machine running crontab is no longer a single point of failure.
Cloud Scheduler infrastructure is managed by Google, distributed, and reliable.
Guaranteed at-least-once delivery to your job targets.
Single simple UI and command line from which to manage your cron jobs.
Powerful logging, Integrated with Stackdriver Logging for greater transparency into job execution and performance.
Configure your job to retry in the case of error or failure.
Enterprise-grade reliability for cron jobs.
Support for App Engine, Cloud Pub/Sub, and arbitrary HTTP endpoints, allowing jobs to trigger Compute Engine, Google Kubernetes Engine and on-premises resources.
Support for Unix cron format.
Pricing for Cloud Scheduler is simple and pay-for-use where you pay for the number of jobs you consume per month.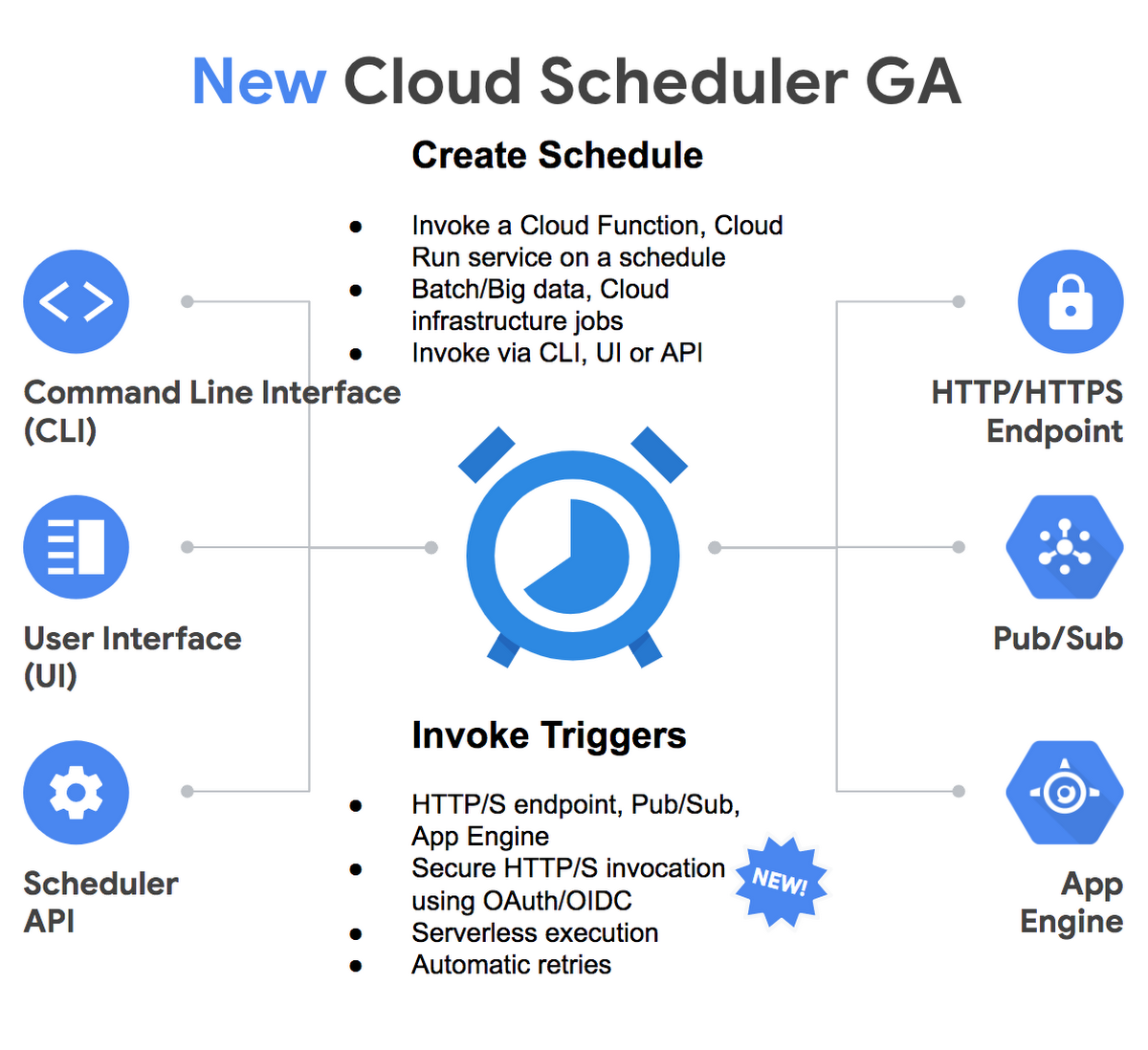 At WordPress-Managment.com with Google Cloud Sheduler, we schedule batch jobs that generate mission critical reports mailed to our clients for our website maintenance services, and activity. All of our customers that using our Full Managed Core Platform and running on an Enterprise account with us, taking full advantages of Google's services such as Google Cloud Scheduler and other Google APPS.
We building apps in the cloud.
Contact with our team today, and let's discuss you new idea and your next project, contact us now!